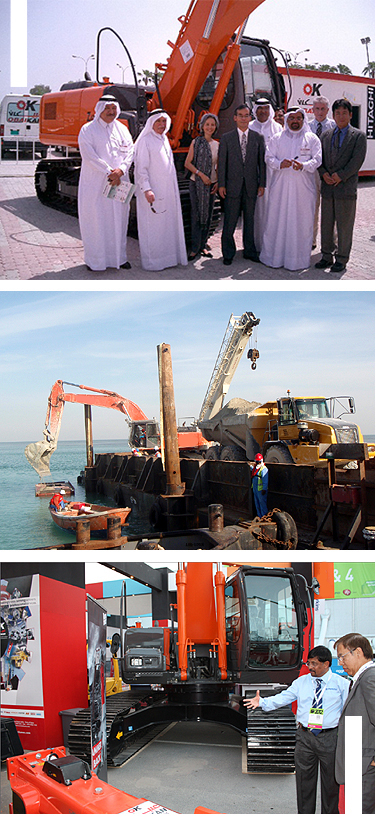 Mobile Workshop
With its fleet of fully equipped state-of-the-art service vehicles, Obaikan provides fast, efficient field service to customer job sites. All field technicians are factory trained and certified for heavy equipment service and repair.
Its advanced training program ensures that all technicians are fully up-to-date with the equipment models and technical bulletins.Laptop computers are an essential part of every technician's tool kit, loaded with factory-supplied software for on-site diagnosis of any machine faults.
With direct access to OEM databases and support systems, Obaikan can ensure that its technicians arrive at customer's machine knowing what's at fault and with the right parts in hand to complete the repair in minimum time. Its wireless communication facilities provide easy access to factory troubleshooting resources to quickly identify base causes and resolutions onsite.
For more details visit www.obaikanes.com
New Unit Sale
Obaikan is a key player in high growth sector of earth-moving equipment. It has played a pivotal role in the construction boom of the State of Qatar during the last decade. It offers and market a diverse range of equipment like Forklifts, Excavators, Compactors, Dump Trucks, Pick and Carry Hydraulic Mobile Cranes, Generators, Engines, Breakers from world's leading material handling and construction equipment manufacturers like Bobcat, Hitachi, Hyster, Bell, Perkins, JLG, Sandvik, etc.
To provide quick delivery Obaikan keeps an extensive inventory of machines and consumables in stock. Fast moving models from suppliers are kept in stock at Obaikan's Yard facilities, complemented by a more comprehensive inventory in Qatar and U.A.E. The company is fully equipped with low-bed trailers, recovery vehicles and picks-ups for timely movement and delivery of equipment to other branches or directly to the customer's premises.
Spare Parts
In addition to being the authorized dealer for many of today's most respected equipment brands in the equipment industry, Obaikan is also renowned as one of the largest supplier of aftermarket equipment parts.
Obaikan carries an exhaustive inventory of spare parts for common agencies. Fast moving parts are kept in all branches to ensure a first pick availability up to 90 per cent. Its experience as a parts specialist has led Obaikan to offer highest availability of the parts.
OEM Parts: Obaikan meets or exceed OEM recommendations for off-the-shelf inventories of service and repair parts for all new equipment it represents
.Aftermarket Parts: As GCC's front line supplier of service and repair parts, Obaikan sources quality parts worldwide to support all makes and models of heavy equipment it offers.
The Obaikan's parts team ranks among the industry's most experienced specialists, combining in-depth knowledge of equipment and parts with advanced technologies to help customers develop cost-effective stocking plans backed by efficient delivery and management systems. Advanced communication facilities let Obaikan keep the most current part references and cross-indexes. Its global network allows it immediate access to worldwide inventories for maximum availability and minimized wait times.
Equipment Service
Obaikan Equipment & Service is committed to maximize uptime and productivity for customers at work in construction, demolition, road building, Oil field exploration etc. It's extensive service experience and in-depth factory training with the industry's top equipment manufacturers makes Obaikan the best choice for expert service to the client's complete equipment fleet.
Along with delivering authorized warranty service to the equipment, Obaikan is proud to provide efficient maintenance and repairs to all makes and models of machines across GCC. Obaikan's track record for service provision has been proven exceptional in major sectors such as Building Construction, Roads & Infrastructure, Petrochemical Industries, Oil & Gas fields, Distribution Networks, adding value to OEM service processes as well as executing its role in an efficient and safe manner at all times.