Business Development Department
The Business Development Department is the combination of strategic analysis, planning & expansion, market research, and marketing.  Its major objective is to put forward the strategic vision of the top management and act as networking tool towards company's global reach.  The Group's expansion is driven by the careful inspection and strategic planning by the Business Development Department in tune with the economic boom of the country.
Business Development Department encapsulates the business intelligence and domain knowledge of various sectors by closely monitoring market movements and competitive data gathered after intense market research by various means of information to identify new business opportunities whether that means new markets, new partnerships with other businesses, new ways to reach existing markets, or new product or service offerings to better meet the needs of existing markets—and then to go out and exploit those opportunities to bring in more revenue.
The partnerships are built upon significant experiences, solid business foundations and clear vision. For this very reason, the department serves as incubator to the newly formed JV's and helps them to grow faster and establish themselves in local market right from the beginning of their business activity. In other words, this approach eliminates long process of learning curve by using readily available infrastructure, information system and networking.  It is therefore rightly said that "we start from where others end"
This department gives utmost importance to the strategic planning to expand and diversify corporate business.  It acts as management consultant and addresses top-level strategy issues such as what new business activities company should pursue, how it should position itself and market those activities, and which technologies it should invest and acquire., BDD's strategic planning dept. also involves corporate financial experts for some business opportunities like due diligence, investments, banking functions, mergers, and acquisitions of new business units and negotiation process.
Networking is another important component and foundational means of business development department. It has been recognized as the key component in success of the corporate. BDD believes that success is predicated on building relationships. Effective networking involves determining BDD's networking purposes and goals, identify possible contacts and develop a plan to ensure building upon these contacts. Be involved with organizations in which BDD's best contacts, potential clients and referral sources are involved. Maintaining regular contacts with clients, industry leaders, and potential partners, updating database and systematically working on CRM (customer Relation Management).
BDD's approach towards Marketing provides it distinctive position among the competitors. It firmly believes that success of any business solely depends on how its marketing strategy is managed and implemented.  BDD helps define potential markets, craft strategies to position and distribute any service or products that company offers or intend to offer and help with the actual execution. BDD's marketing operations include but not limited to :

The Department is structured into four functional areas viz. Planning & New JV Companies, Market Analysis & Research, Marketing and Major Projects, all of which work towards the corporate vision and act in unison as the pillars for the Group's growth. It includes a team of professionals dedicated to different sectors headed by highly qualified and experienced management with strong research skills, excellent quantitative and analytical approach and excellent communication and decision making expertise. The BDD together with IT department has developed a sophisticated Information system that helps automizing its operations and get fast and accurate results at any point in time. BDD is also backed by legal advisory committee for creating legal framework of agencies, associations and JV companies as per the rules and regulations of the state of Qatar.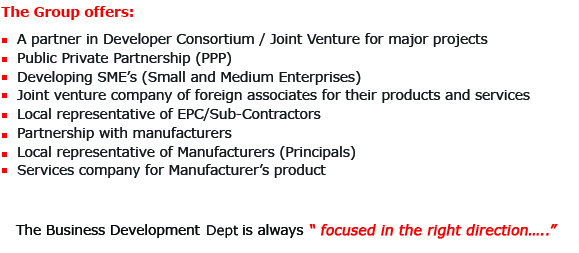 Principals of Business Development Group