Mechanical Division
Mechanical Division is a versatile and successful business house operating under the umbrella of OITC Group W.L.L, a leading corporate in the GCC region, owned by Al Obaidly family. This division falls under the Commercial Sector of OITC Group W.L.L corporate structure and is specialized in providing state of the art Mechanical & Engineering Products & Services to various public and private sectors.
Mechanical Division offers complete range of world class brands of HVAC products, Fire Fighting and Safety euipments, Instrumentation Products, Water & Sewage Systems, Water and Gas Transmission Pipe & Fittings, Fabricated Oil & Gas, Petrochemicals and Environmental equipments. It undertakes Turnkey Contracts of Equipment supply and provides integrated solutions including Consultation, Design, Engineering and Supply services. List of major products offered by Mechanical Division is as under:
Portable, Process & Sewage Water Transmission Products: Ductile Iron pipes, Fittings & Valves, GRP Pipes, HDPE Pipes, u PVC Pipes, MDPE Pipes, Concrete Pipes, Copper Pipes, Fire Hydrants/Electronic Meters, Water Meters & Cabinets, PPR, POM & Gun Metal Fittings, Alloy Steel, Stainless Steel, Carbon Steel/Exotic Metal Pipes & Fittings, Gaskets.

Fire Fighting, Safety and Security Products: Fire Pumps, Sprinklers , Alarms, Hoses, Cabinets ,Safety & Security CCTV, Public Address Systems , Car Parking Management.
HVAC Products: AHU, FCU, Diffusers, Grills, Dampers, VAV, Cooling Towers, Air conditioners, Copper Pipes, Water Heaters, Heat Exchangers, Chilled Water Pumps.
Water/ Sewage Treatment Products: Electro Chlorination Systems, Sewage Treatment Plants(STP), Oil Skimmers, Pumps, Valves & Accessories, Desalination Plants, Filtration Systems.
Oil, Gas Petrochemicals and Power Plant Products: Heavy Engineering & Chemical Process Equipments, Special Heat Transfer Equipments, Specialized Engineered Heat Exchangers( Plate , Shell & Tube Type), Re tubing,  Instruments, Gauges, Switches, Transmitters and Gaskets.

Mechanical Division is an approved vendor and working closely with long list of diversified clients both in public and private sectors like LNG, LPG, Petrochemical, Refineries, Power & Desalination, Transmission & Distribution Networks, Water & Sewerage Systems, Roads & Infrastructure and leading private consultants and contractors. It creates noticeable added value for its customers by providing integrated solutions under one roof. The Company with its team of qualified Engineers and Managers is engaged in working with projects from the specification to completion stage, there by participating at every level of the project to ensure customer confidence and reliability in this division.
Worldwide cooperation with competent partners is a key element in Mechanical Division strategy. Close cooperation enables it to set itself apart from the competition by providing innovative services. It has formed various types of alliances with world's leading players in key sectors it operates in order to fulfill the growing needs of customers. Joint ventures and development partnerships helped it to extend its range of future-oriented products and to raise customer loyalty further. Founding joint ventures gives it favorable starting conditions in key regions, such as Middle East.
Every venture has helped this division add value to its customers, at the same time witnessing strong and long-lasting relations with its partners. It's Clients and associates can be rest assured that Mechanical Division would strive to create maximum value to stakeholders, given the company's utmost commitment to provide the most reliable and quality solutions.
Spread across diverse culture and tradition, the Mechanical Division team constitutes an assortment of eminent personalities from across the globe. Their shared beliefs and a common vision help them achieve higher standards of services at all levels. The execution methods and superior strategic planning adapted by the manpower sets them apart from competitors.
Product Profile
Established since 30 Years, OITC Group evolved a Mechanical Division having network and agency agreements with wide Range of Renowned Manufacturers and Suppliers in the world in order to respond and professionally address the Specific Demands from the Industry in the State of Qatar.
Following objectives apply to OITC Group W.L.L (Mechanical Division):

With the above objectives, OITC Group W.L.L (Mechanical Division) handles and Markets the following products: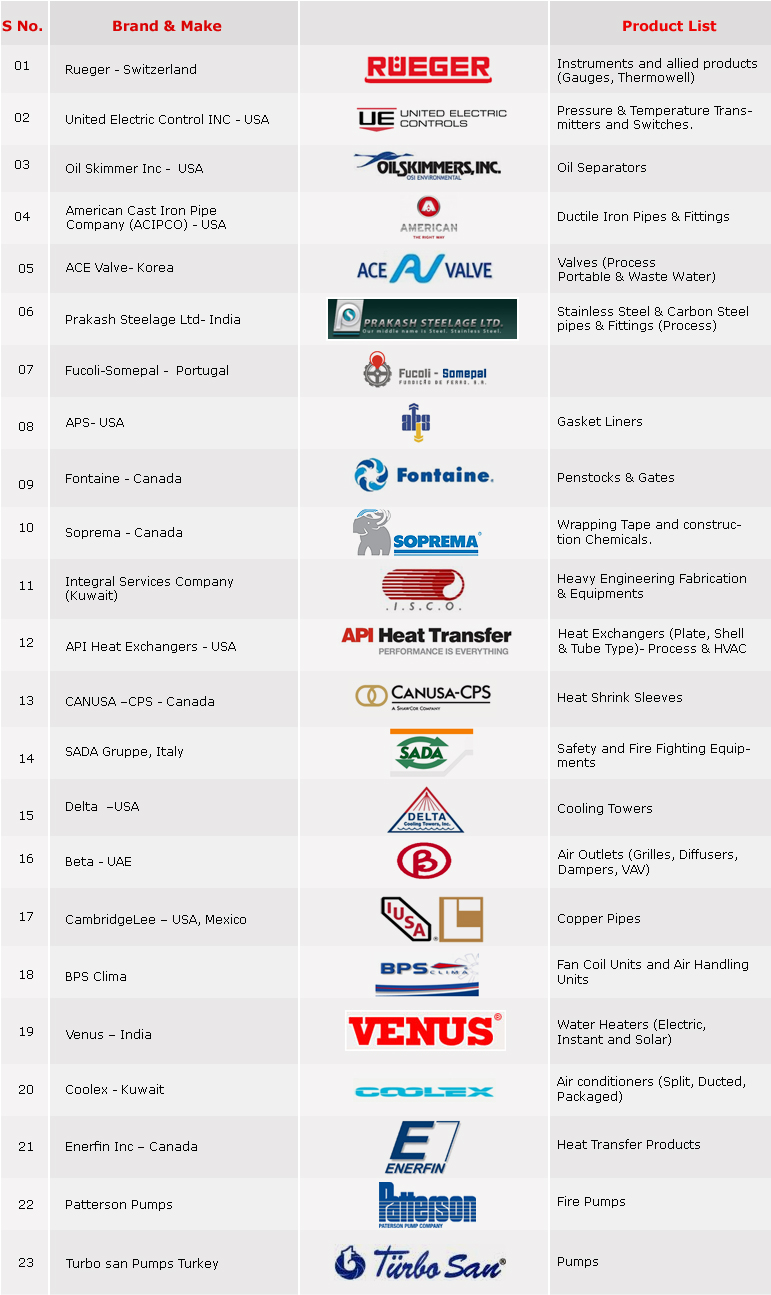 Supply to Clients Demand:
In case of Urgent Demand or all in supply to our clients demand, OITC Mechanical Group manages different type of requirements as per project and specifications/ needs, to fully adapt to the State of Qatar Qualifications.
Shipment & Logistics:
Our Suppliers and Principals through our relations provide Quality packing & Freight Handling.
Inspection:
As per standard procedure and on demand In house inspection reports from our Principals and suppliers can be provided. However in case of our client's specific and statutory requirements, a Third part inspection can be arranged.
We solicit your enquiries and value your business supported by our good track record, experience, principals/ suppliers and most important our dedicated PEOPLE.
Our Esteemed Clients